The Basics of Winging
Ever wonder what skills or essential gear you need to learn how to wing? We'll guide you in choosing the right Slingshot board and wing, picking the best locations to start, and other valuable riding tips from our team.
READY TO LEARN?
Slingshot Brand Manager, Wyatt Miller, helps you get on the water confidently with the right Slingshot wing gear and step-by-step instruction.
6 SIMPLE STEPS TO START WINGING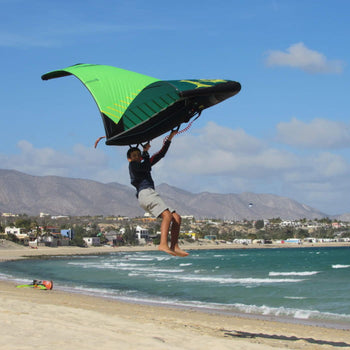 Step 1
Learn wing control by playing with the wing on the beach. The more time you spend learning wing control on the beach, the more success you will have on the water.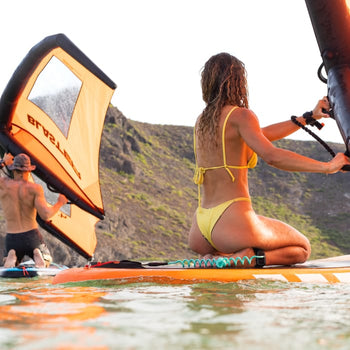 Step 2
Head to the water using a board with a rear fin and center keel fin: Practice riding on your knees first, keeping the wingtips out of the water by holding it high above your head and pushing towards the lower wing tip with your backhand to keep the wingtip out of the water. You'll end up downwind of where you started, so make sure to have a safe landing area downwind.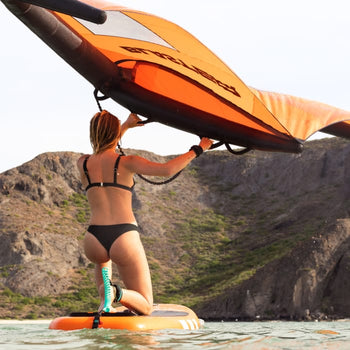 Step 3
Begin to stand up on the board. With the wing above your head, pulling in on the backhand for a little bit of power, go from kneeling on both knees, to front foot planted and one knee down (almost like a lunge), then stand up. You'll want to stand on the back half of the board with your front foot on the carry handle.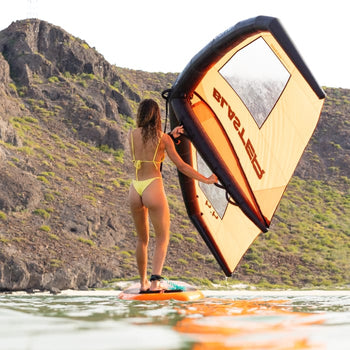 Step 4
Practice staying upwind: Go on longer reaches with more pressure on your back foot. Pull the wing back towards the tail of the board to keep the nose pointed further into the wind. Once you can sail back and forth, and return to the same spot you launched from, you'll know you're ready for the foil.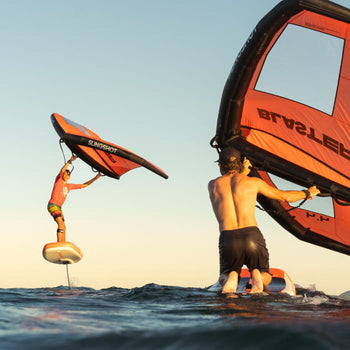 Step 5
It's time to start riding with the foil. Start going out with higher wind speeds above 14kts and make sure to ride with a wide stance. Begin building speed by pulling in fully with the back hand while holding the wing out in front of you towards the nose of the board. As the board begins to lift, your main goal should be getting short flights and returning the board to the water.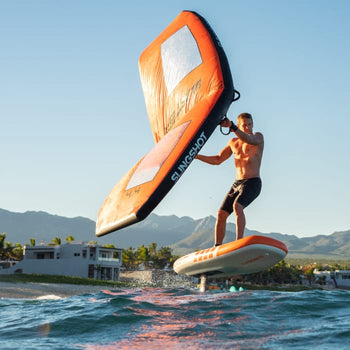 Step 6
How to achieve longer sustained flights: First, see how long you can sustain a foil flight. Then, regulate your flight height by moving your weight forward on the board to go down and back on the board to rise higher. Try to keep the board nice and flat (balanced heel and toe pressure) to avoid carving upwind or downwind and losing balance.
WING SAFETY
Learn more about the proper safety gear and what conditions are right for you.
FOIL ACADEMY
Join Slingshot's exclusive Foil Academy for a step-by-step guide to wing and wing foil progression.
Over 30 hours of free video lessons at your fingertips.